Go for
more sales
premium content from brands
faster workflows
easy integration
full control
the loadbee network
Increase sales: Generate more sales!
Turn visitors into happy customers!
loadbee's network includes a diverse selection of brands and stores of all sizes and sectors - from fashion and consumer electronics to DIY stores, garden centers, toy stores, and many more. All are convinced of the quality and relevance of the premium content that reaches customers via loadbee.
Are you also looking for high-quality content that will delight your customers and increase the success of your retail business? Then join the more than 4,000 stores that trust us. With loadbee and premium content from brand manufacturers, you can increase your sales and realize the full potential of your online store!
Increase sales
Get the best product content automatically and with little effort. Get the complete premium content directly from the brand manufacturers with just one click. In this way, you can inspire your customers at the moment of decision and increase your sales by up to 25%.
Reduce bounce rate
With loadbee integration, you reduce the number of bounces and drop-offs in your online store. Our injected content keeps visitors on your website and guides them through a user-friendly and compelling customer journey so that visitors become long-term and happy customers.
Reduce returns rate
Premium content that promotes sales helps reduce return rates. Your customers can get an accurate picture of the products by delivering a comprehensive range of detailed product descriptions, application notes, and high-quality product images. The result? Happier customers and, as a result, a significant reduction in returns.
Increase gross profit
How? Providing great content to customers improves their chances of making repeat purchases. By prioritizing the needs and interests of customers, businesses can foster loyalty, resulting in increased sales and a better return on investment.
Always one step ahead
Analog content sourcing ties up resources such as staff and time. The opposite is true when they rely on simple, digital solutions that speed up the process and make it more efficient. We understand how crucial it is to connect your target audience with the latest premium content from brands to stay ahead of the competition. That's why we recommend using loadbee for efficient delivery and guaranteed success.
The full story: How premium content makes online stores successful!
The key to closing the sale - tell the whole story!
Take advantage of the last step in the customer journey!
Provide all sales-driving information about the product
Repeat all the information that led your customers to the product detail page of your store
Convince with the original premium content from the brand manufacturer
How are purchase deals guaranteed?
Convince with the premium content of their brand manufacturers!
What Premium Content can contain
3D
This innovative technology allows you to present products in a way never seen before. Create a unique experience with a three-dimensional display and the option to move in all directions. Convince of the quality of your products.
AR
With AR technology, you can create virtual product experience worlds for trying on glasses, applying makeup, or placing furniture in a room. This enriches reality and provides a helpful tool for making informed decisions.
Awards
Independent awards speak for the highest quality and tested quality. It doesn't matter if it's the high quality of the products, a solid social media reach, or the excellent and award-winning service - awards differentiate you from the competition and convince customers in seconds!
Campaigns
Marketing campaigns aim to promote and highlight particular products or services, using visually appealing elements like top-notch product images or attractive graphics to catch the attention of potential customers. Special deals like discounts, coupon codes, or limited-time offers can be utilized to generate more interest and motivation to make a purchase. Customized advertising messages or personalized recommendations that cater to the target audience create a sense of relevance and personal connection with the customer.
Certificates
A seal of approval is more than just a simple image. It signals reliability and respectability. Through the confirmation of independent institutions, you gain the trust of buyers and enthusiasm for your products.
Comparison Tables
Providing customers with straightforward product comparisons is highly desirable. This can boost sales as it facilitates faster and simpler decision-making. You can increase sales by offering customers higher-value or extended products (up-selling) or by showcasing alternative products or accessories (cross-selling) to meet their needs and preferences.
Descriptions
A well-written product description determines between a successful and a less successful sale. It gives prospective customers the information they need to make an informed buying decision. A clear and concise product description helps customers meet their needs and expectations, creating a positive experience.
Galleries
Image carousels allow your customers to explore products visually. Different image variations provide a quick and varied insight into the product and the brand. They arouse emotions, improve the shopping experience and increase the attractiveness of the detail pages.
Icons
The incorporation of icons as visual elements supports the understanding and perception of the products. Eye-catching icons can also quickly communicate important information. Thus, you create a user-friendly shopping experience and increase buyers' interest.
Images
Images convey visual information and convince through authenticity, quality, product information, brand identification, and offer inspiration for purchase decisions. Images play a crucial role in brand communication and in creating a positive impression.
Operating instructions
Thanks to its well-organized instructions, customers can easily access and understand the crucial details about the product. This leads to greater satisfaction and accessibility for all users.
PDFs
PDF format ensures a clear and organized presentation that integrates various media types such as images, tables, and texts. It is especially beneficial for incorporating operating instructions, specifications, and technical data as PDF files.
Sounds
Sound is a powerful tool to convey stories and emotions through different sounds and noises. Use this opportunity to take your customers on a journey and transport them to another world. Explore the vast range of possibilities that sound worlds offer for creating captivating stories.
Sustainability
Environmentally friendly products, recycling initiatives, and ethical supply chains are essential to customers. Powerful images, clear labeling, and concise explanations help make your contribution to environmental protection visible. This ensures their customers notice your efforts regarding environmental impact, packaging recycling, or CO2 compensation.
Technical Details
We recommend giving customers comprehensive information about product features, technical specifications, dimensions, materials, and functions. This will help them find the product that suits their needs. Providing technical specifications can boost customer confidence and minimize the likelihood of unexpected returns. Moreover, it can help customers make informed decisions, leading to increased conversion rates.
USPs
When it comes to shopping, it's essential to showcase a product's unique selling points (USP). This includes highlighting new technologies, key benefits, and innovative features to help customers understand the product's special characteristics and see what differentiates it from other options. Doing so can create the perfect shopping experience for your customers.
Videos
Product demonstration videos are the ultimate way to understand a product's features and capabilities comprehensively. Videos showcase the product from various angles, giving potential customers a better idea of its size and proportions. They offer a more realistic impression of how the product works. These videos connect strongly with viewers through compelling visual effects, music, and storytelling elements. They highlight the product's benefits in a way that conveys added value or a particular lifestyle, generating interest and excitement among potential customers. Ultimately, product demonstration videos are an excellent tool to build customer trust and desire.
Just four steps to free registration - it's that easy!
Sign up in four short steps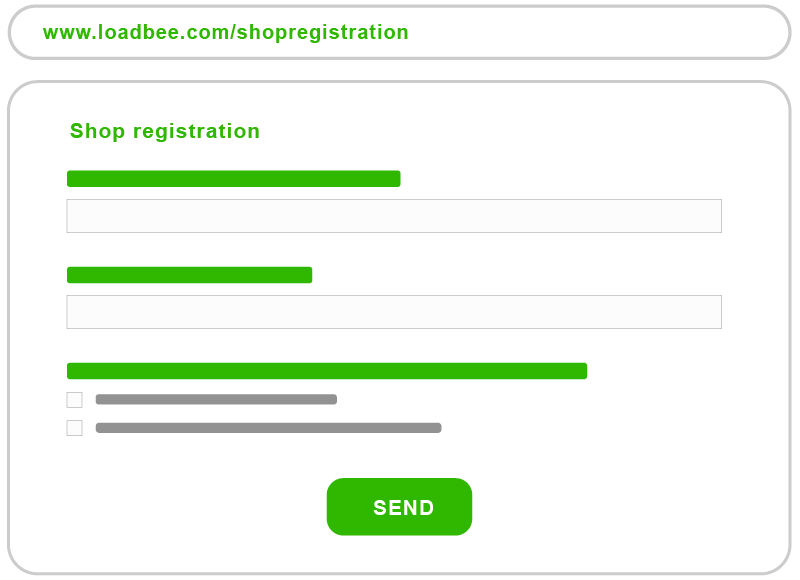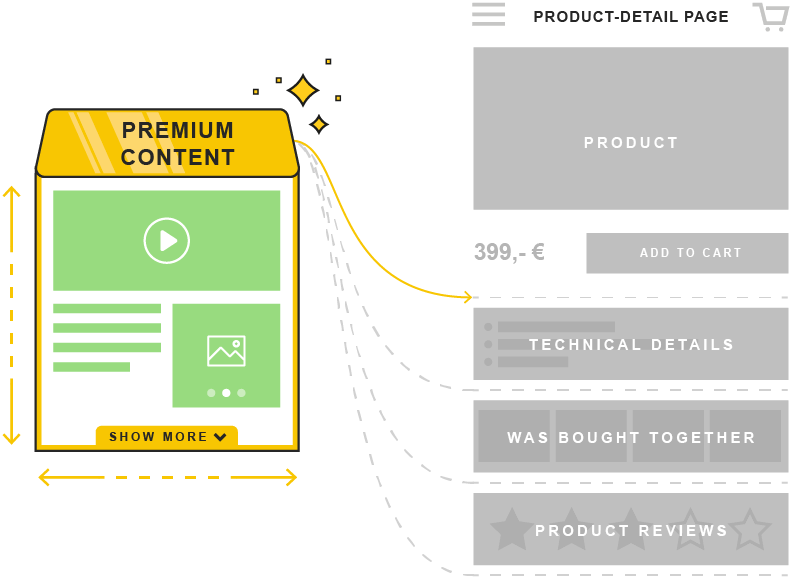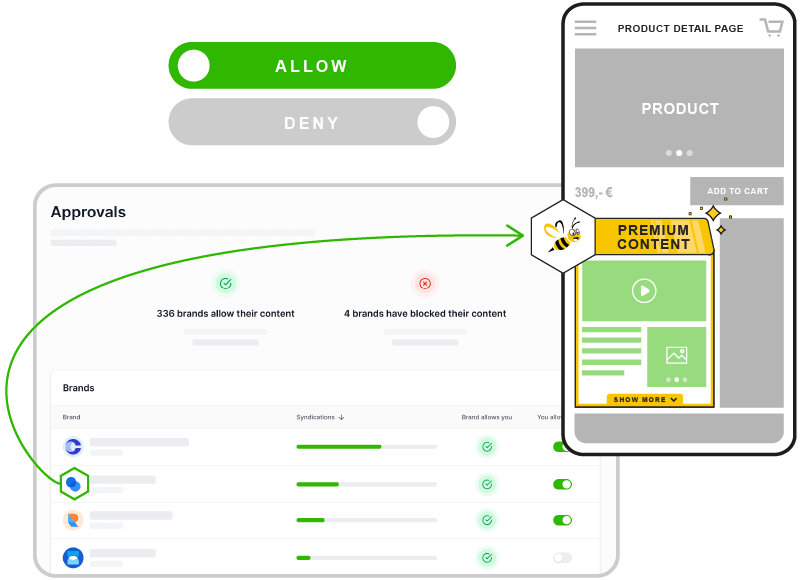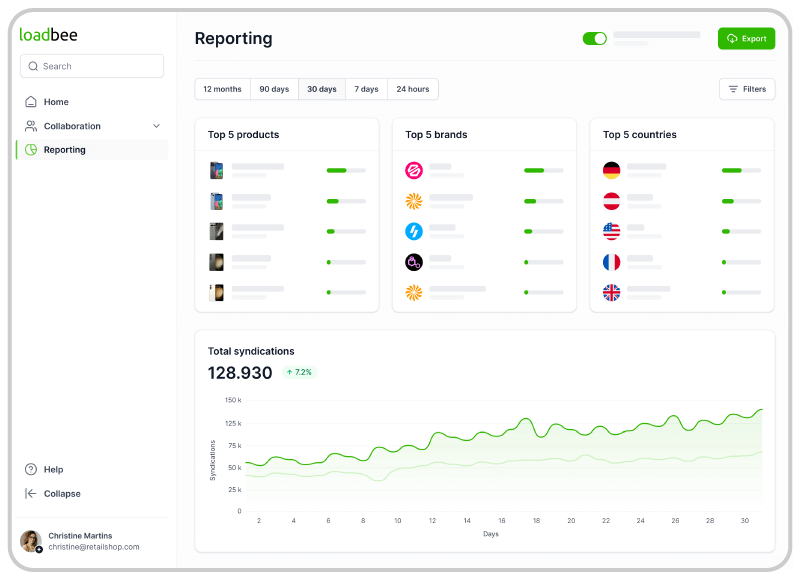 Register your shop

Log in and register your store on loadbee.com.

Integrate loadbee code

Choose the space and size of the premium content frame on your website.

Activate content network

Decide which brands you want to receive premium content from.

Get reports

Get insights and reports into performance.
More answers to your questions about loadbee?
FAQs
As a leading Saas company in premium content syndication, we have been successful in the market for over ten years. Our solution distributes the complete premium content of products and services to the end customer and increases the sales of shops and brands. With our software, we focus on maximum benefit with minimum effort. Through a small code on the product detail pages of online stores and a platform for the brand manufacturer, the distribution of premium content becomes digital and automated. loadbee gives you fast and easy access to high-quality original content from brand manufacturers. With the extended product detail depth, we keep your customers on your store page and thus increase the conversion rate while bounces are reduced.

What is loadbee used for?

loadbee makes it possible to automatically present sales-driving premium content from brand manufacturers in your online store. This feature will convince your end customers of your assortment faster and more comprehensively, thus increasing sales. Use the free option for your store and enjoy all the benefits.

What are the benefits of loadbee?

Increase your sales and reduce bounce rates at the same time. With the original content of the brands, you offer your end customers the desired information that motivates them to purchase. You'll also reduce the rate of returns, as your customers will be more aware and convinced to make a purchase. You retain full control and can determine where and how the information should look. In addition, you can obtain premium content from selected brands. Using loadbee means a lower cost-benefit ratio, as pages are automatically filled, and copy errors are avoided. With better customer satisfaction and an assured expectation, you will get better reviews and be more successful in the long run.

What are the costs for loadbee?

For you as a retailer or store, using loadbee is free. In addition, with a retail media budget, there is the possibility of monetary participation for the value of the premium content played out to the customers.

How does the integration and playout of premium content work?

Using our application is simple. It does not require any technical knowledge. In addition, the functionality of all standard store systems remains unchanged, and the speed and entry points are also unaffected.

How much space does the premium content window occupy on my product detail pages?

Adjust the size of the content window in pixel intervals individually to the requirements of your online store. The window length varies depending on the content the brand manufacturers provide. If you want to show your users only a certain amount of information at once, you can use the "Show More" button to embed content and save valuable page space.

Does loadbee have an impact on my search engine ranking?

With the use of loadbee, there are no duplicates of the content on your pages because the data is not physically integrated. There is a neutral integration that does not affect your paid search engine strategy and does not affect your position, e.g., in Google ranking.

What happens to my e-shop if I want to stop using loadbee in the future?

Deactivating loadbee is as effortless as implementing it. You must only eliminate the embed code and your store returns to its original state.

Is loadbee GDPR compliant?

For loadbee, strict compliance with the General Data Protection Regulation (GDPR) is paramount. We are committed to ensuring the highest standard of data protection, which extends equally to our customers and employees. Detailed information on this can be found in our current

Data Protection Regulation

. Our priority is security, transparency, and confidentiality.
We're here to answer all your unanswered questions and discuss the details needed for your shop and business.