Go for
more sales
premium content syndication
faster workflows
cloud technology
full control
the loadbee network
The best for your brand: your premium content automatically distributed in the dealer network!
You provide the content, and loadbee takes care of everything else!
Convert prospects into customers - with premium content in the right place. Convince your customers at the moment they make their purchase decision with timely premium content at your retail partners. Create a consistent brand experience across all digital touchpoints. Maintain full control over who receives premium content at all times.
Do you also want to convince your customers at the decisive moment? Act without limits – for us, there is neither too much nor too little product, reach, or playout. With our standardized packages, we can cover start-ups' needs of multinational corporations. Choose the right package for you with our consultants. You can benefit from our SaaS solution and create a relevant competitive edge.
Content Syndication keeps you always up-to-date
Our solution updates all your trading partners immediately with your premium content. The cycle and the content can be adjusted and changed at any time and as needed (season, campaign, etc.). This way, you ensure the content and product information is always current.
Strengthen the trust of your customers
Our solution enables a consistent brand experience in the online stores of your retail partners. With the modules of loadbee, you can individually present the different benefits and aspects of your products. Show the world what is unique about your brand and attract customers who love your products.
Convince at the right moment
With loadbee, you give your customers orientation: to make the right decision for your products in the almost unlimited choice of stores. With 3-D, AR, video, sound, and much more, present your products convincingly to customers; at the right moment — the purchase decision.
Your brand, your look & feel!
Design the layout of the product detail pages according to your wishes and your corporate design. Automatically distribute your premium content to all selected retailers, giving your end customers a consistent brand presentation and sharing your brand message.
Number one on the digital shelf
Create an edge in e-commerce with your brand. With loadbee, you play out your product information according to your wishes and retain full control over all the data provided. Increase the long-term and future-oriented success of your brand.
Premium content automatically distributed: Inform and scale at the highest level!
How is the delivered content distributed in a targeted manner?
Loadbee offers a cloud-based software solution that simplifies the process of sharing product data and information with your registered partner stores. By uploading your complete product catalog onto the loadbee platform, you can instantly share your premium content with all your retail partners. This ensures that your customers can make informed purchasing decisions based on complete and accurate information. With Loadbee, you can be confident that your product data is being shared efficiently and effectively across all channels.
How do you increase your sales?
Show what makes your product special.
Use the full range of premium content!
3D
This innovative technology allows you to present products in a way never seen before. Create a unique experience with a three-dimensional display and the option to move in all directions. Convince of the quality of your products.
AR
With AR technology, you can create virtual product experience worlds for trying on glasses, applying makeup, or placing furniture in a room. This enriches reality and provides a helpful tool for making informed decisions.
Awards
Independent awards speak for the highest quality and tested quality. It doesn't matter if it's the high quality of the products, a solid social media reach, or the excellent and award-winning service - awards differentiate you from the competition and convince customers in seconds!
Campaigns
Marketing campaigns aim to promote and highlight particular products or services, using visually appealing elements like top-notch product images or attractive graphics to catch the attention of potential customers. Special deals like discounts, coupon codes, or limited-time offers can be utilized to generate more interest and motivation to make a purchase. Customized advertising messages or personalized recommendations that cater to the target audience create a sense of relevance and personal connection with the customer.
Certificates
A seal of approval is more than just a simple image. It signals reliability and respectability. Through the confirmation of independent institutions, you gain the trust of buyers and enthusiasm for your products.
Comparison Tables
Providing customers with straightforward product comparisons is highly desirable. This can boost sales as it facilitates faster and simpler decision-making. You can increase sales by offering customers higher-value or extended products (up-selling) or by showcasing alternative products or accessories (cross-selling) to meet their needs and preferences.
Descriptions
A well-written product description determines between a successful and a less successful sale. It gives prospective customers the information they need to make an informed buying decision. A clear and concise product description helps customers meet their needs and expectations, creating a positive experience.
Galleries
Image carousels allow your customers to explore products visually. Different image variations provide a quick and varied insight into the product and the brand. They arouse emotions, improve the shopping experience and increase the attractiveness of the detail pages.
Icons
The incorporation of icons as visual elements supports the understanding and perception of the products. Eye-catching icons can also quickly communicate important information. Thus, you create a user-friendly shopping experience and increase buyers' interest.
Images
Images convey visual information and convince through authenticity, quality, product information, brand identification, and offer inspiration for purchase decisions. Images play a crucial role in brand communication and in creating a positive impression.
Operating instructions
Thanks to its well-organized instructions, customers can easily access and understand the crucial details about the product. This leads to greater satisfaction and accessibility for all users.
PDFs
PDF format ensures a clear and organized presentation that integrates various media types such as images, tables, and texts. It is especially beneficial for incorporating operating instructions, specifications, and technical data as PDF files.
Sounds
Sound is a powerful tool to convey stories and emotions through different sounds and noises. Use this opportunity to take your customers on a journey and transport them to another world. Explore the vast range of possibilities that sound worlds offer for creating captivating stories.
Sustainability
Environmentally friendly products, recycling initiatives, and ethical supply chains are essential to customers. Powerful images, clear labeling, and concise explanations help make your contribution to environmental protection visible. This ensures their customers notice your efforts regarding environmental impact, packaging recycling, or CO2 compensation.
Technical Details
We recommend giving customers comprehensive information about product features, technical specifications, dimensions, materials, and functions. This will help them find the product that suits their needs. Providing technical specifications can boost customer confidence and minimize the likelihood of unexpected returns. Moreover, it can help customers make informed decisions, leading to increased conversion rates.
USPs
When it comes to shopping, it's essential to showcase a product's unique selling points (USP). This includes highlighting new technologies, key benefits, and innovative features to help customers understand the product's special characteristics and see what differentiates it from other options. Doing so can create the perfect shopping experience for your customers.
Videos
Product demonstration videos are the ultimate way to understand a product's features and capabilities comprehensively. Videos showcase the product from various angles, giving potential customers a better idea of its size and proportions. They offer a more realistic impression of how the product works. These videos connect strongly with viewers through compelling visual effects, music, and storytelling elements. They highlight the product's benefits in a way that conveys added value or a particular lifestyle, generating interest and excitement among potential customers. Ultimately, product demonstration videos are an excellent tool to build customer trust and desire.
How can I register my brand with loadbee?
6 simple steps to the goal!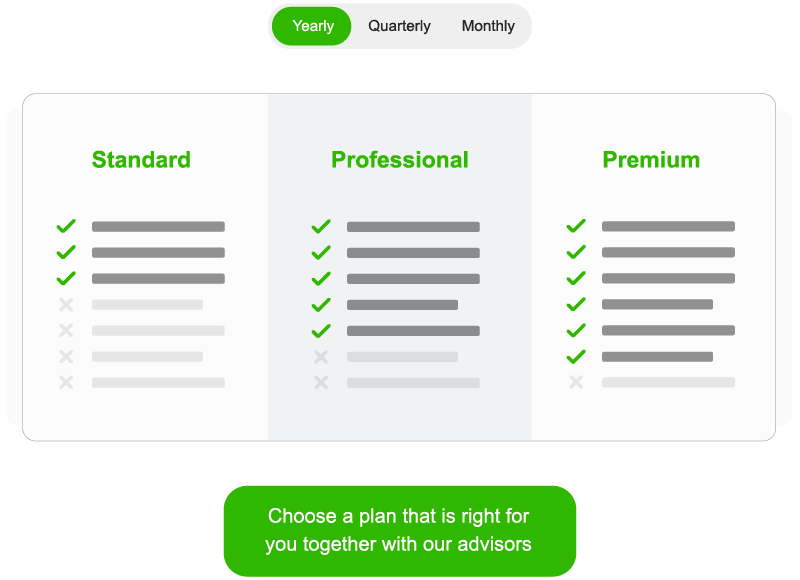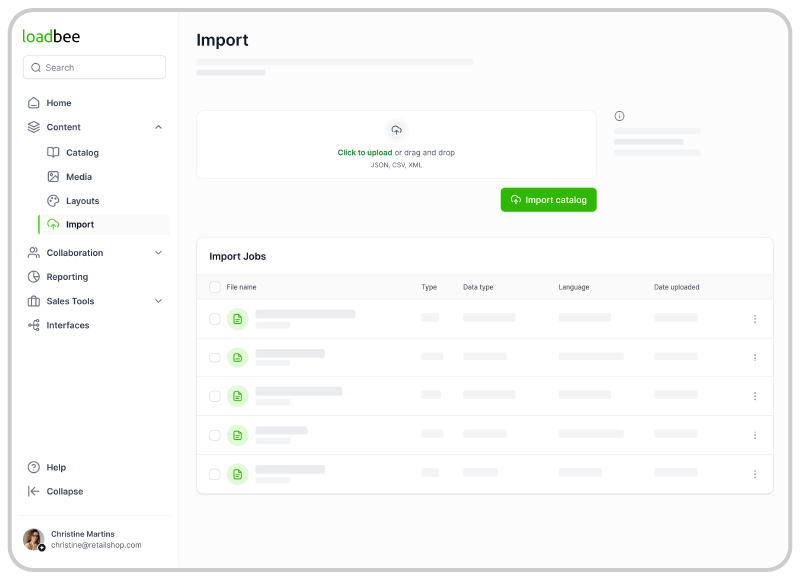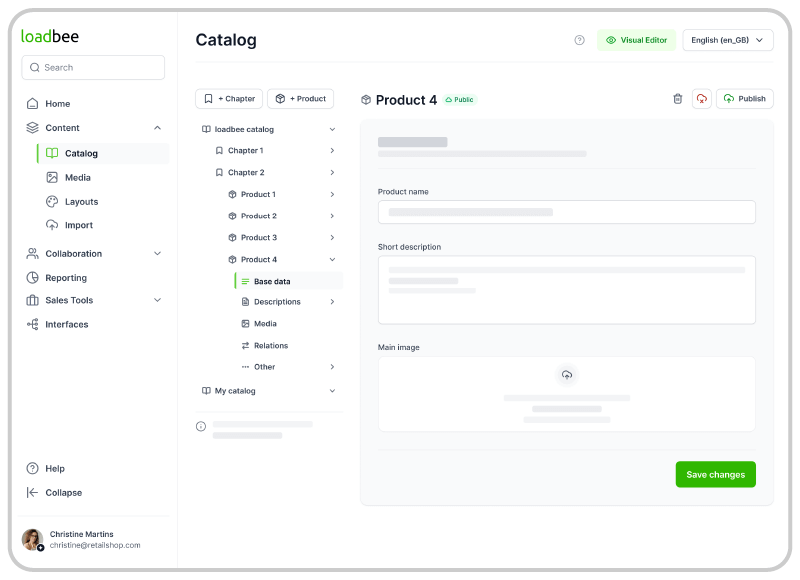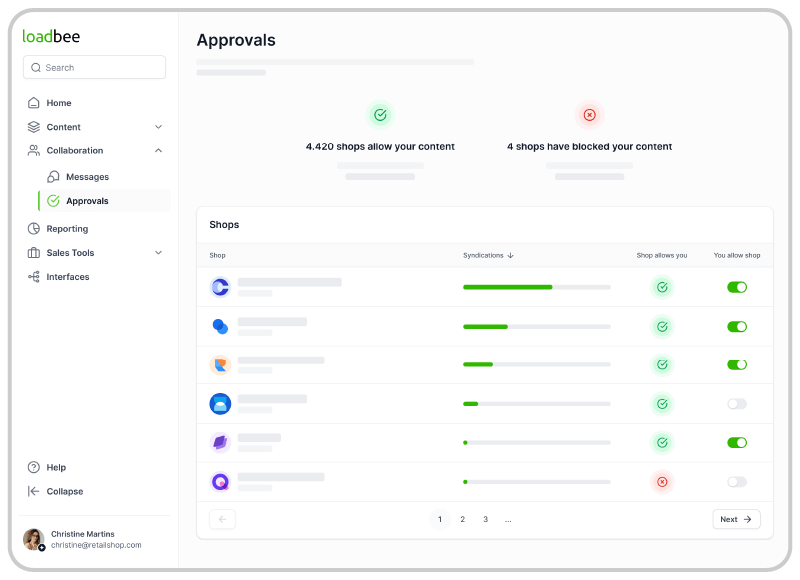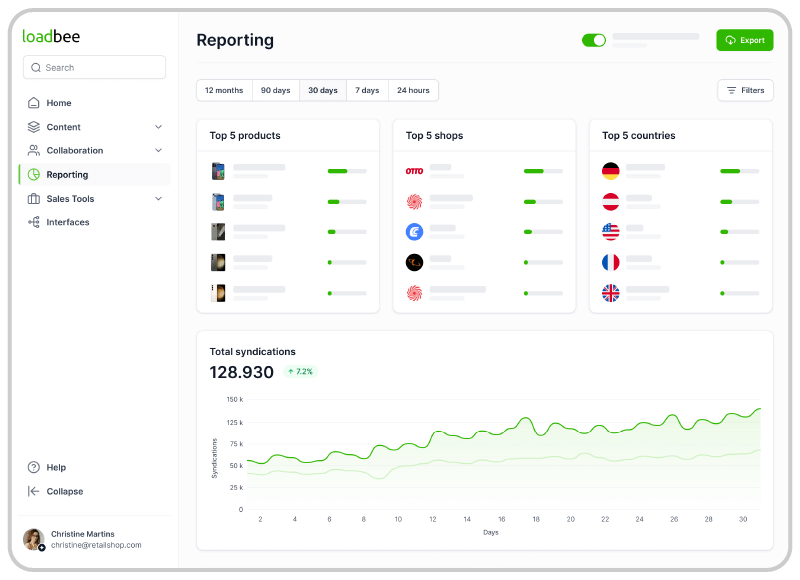 Get access

Choose the right plan with us, sign the contract, and get access to the loadbee platform.

Import product data

Upload your master data quickly and easily.

Create layout

Design your product detail pages according to your corporate design.

Manage catalog

Customize your product data at any time or connect your PIM system for automated processes.

Share content

In the Share Center, specify which trading partners should be provided with your premium content.

Get reports

Get performance insights and reports.
Your benefits - learn more in our FAQ!
High-quality service - your questions, our answers
As a leading Saas company in premium content syndication, we have been successful in the market for over ten years. Our solution distributes your products and services to the end customer and increases sales. With our software, we focus on maximum benefit with minimum effort. Through a small code on the product detail pages of the online stores and a platform for the brand manufacturers, the distribution of premium content becomes digital and automated. Consistent quality, effortless control, and high scalability make loadbee the #1 content syndication partner.

What is loadbee used for?

Once you provide and share your sales-promoting premium content, the loadbee platform automatically distributes it to all participating online stores. This extensive product information will help convince your customers of your product range more quickly and completely, thereby increasing your sales.

What are the benefits of loadbee?

Using our service, you achieve increased sales and a consistent, uniform brand presentation across the participating retailer network, in multiple languages, and on all devices. You have full control over the look and storytelling of product detail pages and can determine which stores should receive your premium content. By automatically distributing the content to the product detail pages of the stores, you save time and avoid copying errors. We provide you with valuable insights through regular, automatically generated reports of the performance of your products and premium content.

What are the costs for loadbee?

Our fair and modular pricing model allows us to serve the needs of small businesses and multinational corporations. Depending on the number of stores, countries, and content playouts, you can choose the package that suits you best. Our customers include software companies (with one product) and industrial companies (with over 100,000 items). Our software solution benefits you with increased efficiency, impact, and sales.

How does the playout of premium content work?

To commence the journey with loadbee, you upload the entire range of products, along with all relevant data, onto our platform. From there, you can customize and manage each product profile according to your preferences. The next step involves selecting which retailers can access your premium content. When a customer lands on a partner's product detail page, our database matching system will display the product profile almost instantly. This system relies on your product number (EAN, GTIN, UPC) as the baseline for matching.

What happens if a product request on the product detail page is not answered (404)?

If the store's detail page does not show the product profile of the brand, the end customer does not notice it. The content window is not displayed, and the data above and below the loadbee code will be merged. The request will also not be counted in your syndication account, as the request has not been answered.

What integration options are available?

Loadbee is typically added to an e-shop through a pull integration method. This requires the integration of a script and an HTML tag directly onto the product detail pages of the website. Once a visitor lands on the product detail page, the data is pulled from the loadbee database, displaying a fully rendered HTML product profile. Alternatively, loadbee can also be embedded through a push service, which is recommended for pushing premium content to a show or marketplace via an import interface.

Are the updates free of charge?

System updates that affect the functionality of the platform are free of charge. Additional functions extending the platform's use may be associated with costs, depending on the selected tariff. Please feel free to contact us about this at any time.

Is loadbee GDPR compliant?

For loadbee, strict compliance with the General Data Protection Regulation (GDPR) is paramount. We are committed to ensuring the highest standard of data protection, which extends equally to our customers and employees. Detailed information on this can be found in our current

Data Protection Regulation

. Our priority is security, transparency, and confidentiality.
How can I choose the loadbee tariff that is right for me?
Secure expert advice!
If you want to simplify your processes, loadbee is here to help!
Our team of sales experts is enthusiastic to hear from you.
Whether you have questions, want to see a demonstration, or want to try loadbee risk-free, we're happy to help. We'll listen to your needs and recommend a plan that works perfectly for your brand. We're excited to hear from you and confident that we have your ideal solution.